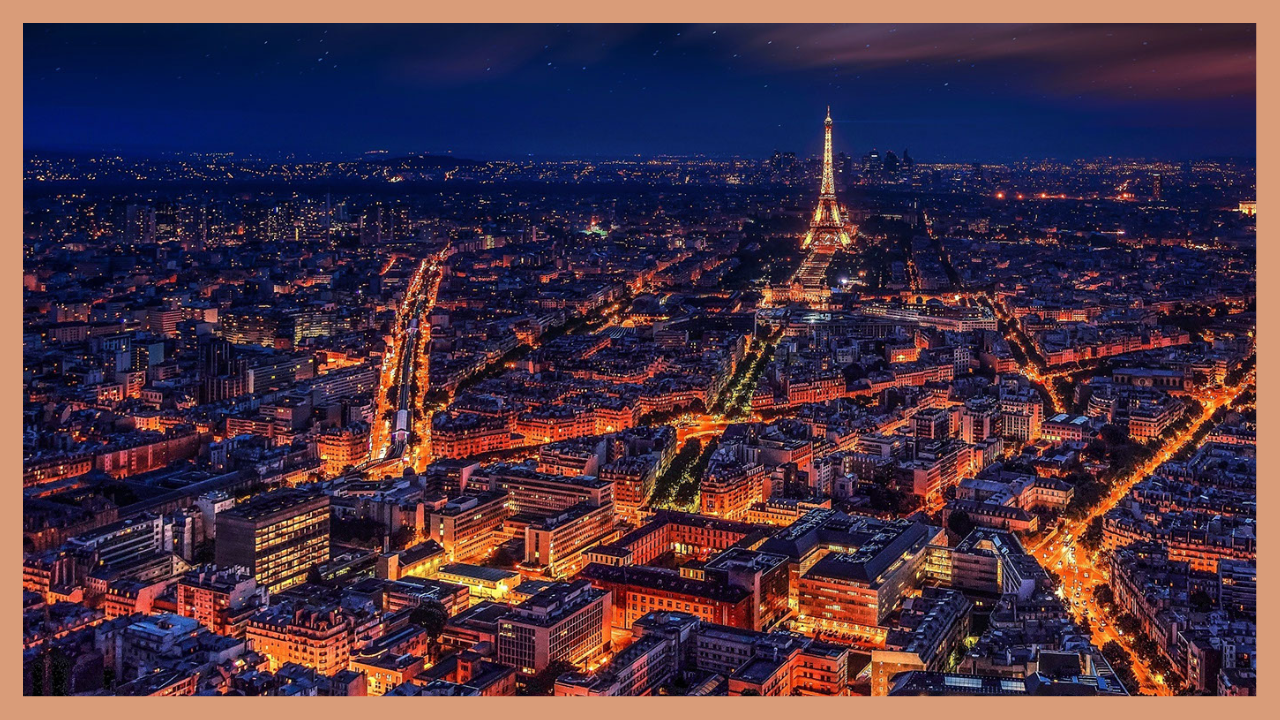 PARIS BEFORE YOU GO
What documents do I need to travel to Paris?
A United States passport is required for U.S. residents traveling to Paris; children of all ages must have them, too. Your passport must be valid for at least three months beyond your date of departure. U.S. citizens do not need a visa unless they plan on staying longer than 90 days.
US Citizens
American citizens traveling to France for less than 90 days do not need a visa. However, they will need a valid passport for at least six months beyond their stay. Immigration officers may also ask citizens to show enough funds for their stay and a return airline ticket.
ABOUT PARIS": 
Paris, city and capital of France, situated in the north-central part of the country. People were living on the site of the present-day city, located along the Seine River some 233 miles (375 km) upstream from the river's mouth on the English Channel (La Manche), by about 7600 bce. The modern city has spread from the island (the Île de la Cité) and far beyond both banks of the Seine.
Paris occupies a central position in the rich agricultural region known as the Paris Basin, and it constitutes one of eight départements of the Île-de-France administrative region. It is by far the country's most important centre of commerce and culture. Area city, 41 square miles (105 square km); metropolitan area, 890 square miles (2,300 square km). Pop. (2012) city, 2,265,886; (2015 est.) urban agglomeration, 10,858,000.
The character of the city
For centuries Paris has been one of the world's most important and attractive cities. It is appreciated for the opportunities it offers for business and commerce, for study, for culture, and for entertainment; its gastronomy, haute couture, painting, literature, and intellectual community especially enjoy an enviable reputation. Its sobriquet "the City of Light" ("la Ville Lumière"), earned during the Enlightenment, remains appropriate, for Paris has retained its importance as a centre for education and intellectual pursuits.
ALCOHOL CONSUMPTION:
The legal drinking age in Paris and the rest of France is currently 18. This means that individuals over the age of 18 may legally purchase alcohol in supermarkets or other points of retail around the country, as well as in restaurants, bars, and clubs.
How Common Is Carding in Bars, Clubs, and Restaurants in Paris?
Contrary to vendors in the United States, counterparts in France and Paris rarely require customers purchasing alcohol to show IDs, instead of relying on subjective judgment to assess whether a customer is old enough to purchase alcohol. Parents traveling with children or teens from places like North America should be aware that in France, where alcohol consumption is not as stigmatized, it is still relatively easy for younger customers to procure alcoholic beverages.
WIFI:
Paris WiFi is a free internet service offered by the Ville de Paris and the Île-de-France region. It provides users with free access to a high-speed wireless internet connection. The network is open to all, residents and visitors alike.
Free WiFi in Paris is available to everyone in over 260 public places. Parks, gardens, district town halls, libraries, and museums in the city all have this facility.
This service is free
Remember: each free WiFi in Paris session lasts two hours. Once this time expires you can reconnect as soon as you like. Just repeat the connection process described above.
Where do I fly into?
París-Charles de Gaulle Airport
Dirección: 95700 Roissy-en-France, Francia
Código: CDG
The main centre of air travel is Paris, which has two airports (Roissy-Charles-de-Gaulle to the north, and Orly to the south). Most North American airlines fly to Paris only, but France's regional airports are well connected to both the Parisian airports and to each other. Many have several flights a day to Paris.
Visitors arriving in Paris who wish to reach the city center or a train station may use public transportation or reserve space on the Airport Shuttle (for Roissy-Charles-de-Gaulle Tel: 01 45 38 55 72, for Orly Tel: 01 43 21 06 78).
Visitors from the UK will find that many airlines also operate services to Nice, Lyon and Marseille, as well as other provincial cities, including Bordeaux, Carcassonne, Clermont-Ferrand, Mulhouse, Nantes, Toulouse, Montpellier, Perpignan and Nîmes.
Airport transfer services
You can get from CDG airport into the centre of Paris by using the Roissybus, Leader Shuttle, or by using a taxi, which is much more convenient, but hugely more expensive.
Paris Weather:
Paris experiences mostly mild weather across four distinct seasons. Average daily highs range from 46°F (8°C) in the winter to 77°F (25°C) at the height of summer. Extreme cold or heat are pretty rare, but rain is not. In Paris, light showers can come and go quickly throughout the day.
Summer (June – August)
This is the height of tourist season in Paris, and it is accompanied by matching high temperatures. Expect daily highs of at least 83°F (25°C), accompanied by brisk nights of around 55°F (13°C). As luck would have it, this the driest part of the year – sunglasses are an absolute must! While these temperatures may not seem very high to some, keep in mind that humidity can make Paris feel warmer.  My favorite idea is to picnic in front of the Eiffel Tower on the Champs de Mars Gardens while the sunlight lights up your day until 10pm!  We recommend the Collioure apartment nearby, a great price with an Eiffel view! When you're out and about on a sunny summer day in the French capital, be sure to keep a water bottle with you to stay hydrated.
Passport and Visa Information
Depending on your nationality, these are the necessary documents you will need to travel to France:
EU Citizens
France belongs to the European Union, specifically its Schengen Zone. If you are from another country within this zone, you can visit Paris using only your passport or I.D.
US Citizens
American citizens traveling to France for less than 90 days do not need a visa. However, they will need a valid passport for at least six months beyond their stay. Immigration officers may also ask citizens to show enough funds for their stay and a return airline ticket.
Australian Citizens
Australian citizens visiting France or any other European country in the Schengen Convention (Austria, Belgium, Czech Republic, Denmark, Estonia, Finland, Germany, Greece, Hungary, Iceland, Italy, Latvia, Lithuania, Luxembourg, Malta, Netherlands, Norway, Poland, Portugal, Slovakia, Slovenia, Spain, Sweden) for less than 90 days do not require a visa. Passports need to have at least six-month validity from the planned date of return.
EU, EEA, and Swiss Citizens
As citizens of the European Union and European Economic Area, you will not need a visa to enter the country.
EU Member Countries
Germany, Austria, Belgium, Bulgaria, Cyprus, Croatia, Denmark, Slovakia, Slovenia, Spain, Estonia, Finland, France, Greece, Hungary, Ireland, Italy, Latvia, Lithuania, Luxembourg, Malta, Netherlands, Poland, Portugal, United Kingdom, Czech Republic, Romania, and Sweden.
EEA Countries
Iceland, Liechtenstein and Norway.
Visa-Free Countries
The following countries do not require a visa for visits lasting less than 90 days, but require a valid passport to enter France.
Andorra, Antigua and Bermuda, Argentina, Bahamas, Barbados, Bolivia, Bosnia, Brunei, Canada, Chile, Costa Rica, El Salvador, Guatemala, Honduras, Hong Kong, Israel, Japan, Korea, Macao, Malaysia, Mauritius, Mexico, Monaco, Montenegro, Nicaragua, New Zealand, Panama, Paraguay, Saint Kitts and Nevis, San Marino, Serbia, Seychelles, Singapour, Taiwan, Uruguay and Venezuela.
FUNDS:
You may enter France for up to 90 days for tourist and business purposes without a visa. Immigration officers may also request you show sufficient funds for your intended stay and a return airline ticket.
Health and Safety
Medical Services & more:
Dentists & Doctors: Doctors are listed in the Pages Jaunes (French equivalent of the Yellow Pages; www.pagesjaunes.fr) under "Médecins." Online type "medecin" in the left-hand search box and Paris in the right-hand one and names (and even photos) will appear. The standard fee for a consultation with a general practitioner (médecin generaliste) is 23€. SOS Médecins (36-24, .15€/min.; www.sosmedecins.fr) makes house calls that cost around 90€ to 130€ (prices quoted are for people without French social security). Download a list of English-speaking dentists and doctors in Paris on the U.S. Embassy website: http://photos.state.gov/libraries/france/5/acs/paris-doctors.pdf. You can also reach U.S. Citizens Services by phone at 01-43-12-22-22. See also "Emergencies" and "Health."
Health: For travel abroad, non–E.U. nationals should consider buying medical travel insurance. For U.S. citizens, Medicare and Medicaid do not provide coverage for medical costs incurred abroad, so check what medical services your health insurance covers before leaving home. That said, medical costs are a fraction of what they are in the U.S. (for example, a visit to a GP costs 23€), so you may even decide to do a little medical tourism (be sure to bring your prescriptions). U.K. nationals will need a European Health Insurance Card (EHIC) to receive free or reduced-cost medical care during a visit to a European Union (E.U.) country, Iceland, Liechtenstein, Norway, or Switzerland (go to www.nhs.uk/ehic).
If you suffer from a chronic illness, consult your doctor before your departure. Pack prescription medications in your carry-on luggage and carry them in their original containers, with pharmacy labels—otherwise they won't make it through airport security. Carry the generic name of prescription medicines, in case a local pharmacist is unfamiliar with the brand name.
For further tips on travel and health concerns, and a list of local English-speaking doctors, contact the International Association for Medical Assistance to Travelers (IAMAT; www.iamat.org; 716/754-4883 in the U.S., or 416/652-0137 in Canada). You can also download a list of English-speaking dentists and doctors in Paris at the U.S. Citizens Services page on the U.S. embassy website (http://fr.usembassy.gov) and click "Resources for US Citizens." See also "Dentists & Doctors," "Emergencies," "Hospitals," and "Pharmacies."
Hospitals: In my experience, French public hospitals are excellent. Most Parisian hospitals have 24-hr. emergency rooms, and some have a specialty (Hôpitals Necker and Trousseau are the best children's hospitals, for example). For addresses and information on all Paris' public hospitals, visit www.aphp.fr.
Two private hospitals in nearby suburbs have English-speaking staff and operate 24 hours a day (and cost much more than the public ones): the American Hospital of Paris, 63 bd. Victor Hugo, 92200 Neuilly-sur-Seine (www.american-hospital.org; 01-46-41-25-25; Métro: Pont de Levallois; 15 min. walk from station; bus: 43, 82, 93, 163, 164, and 174); and the Institute Hospitalier Franco-Britannique, 3 rue Barbès or 4 rue Kleber, Levallois (www.ihfb.org/en; 01-47-59-59-59; Métro: Anatole-France).
advertisement
Pharmacies: You'll spot French pharmacies by looking for the green neon cross above the door. If your local pharmacy is closed, there should be a sign on the door indicating the nearest one open. Pharmacists give basic medical advice and can take your blood pressure. Parapharmacies sell medical products and toiletries, but they don't dispense prescriptions. Pharmacies open 24/7 include: Pharmacie du Drugstore des Champs-Elysées, 133 av. des Champs-Élysées (www.pharmacie-drugstore-champselysees.com; 01-47-20-39-25; Métro/RER: Charles de Gaulle Etoile); Pharmacie Européene, 6 pl. de Clichy (01-48-74-65-18; Métro: Place de Clichy); and Citypharma, 86 bd. Soult (01-43-43-13-68; Métro/Tram: Porte de Vincennes). See also "Emergencies" and "Health."
Police: In an emergency, call 17 for the police, or 112, the European Union–wide toll-free emergency number. The Préfecture de Police has stations all over Paris. To find the nearest one, call 17 or go to www.prefecturedepolice.interieur.gouv.fr/English. See also "Emergencies."
Safety: In general, Paris is a safe city and it is safe to use the Métro late at night. However, certain Métro stations (and the areas around them) are best avoided at night: Châtelet-Les Halles, Gare du Nord, Barbès Rochechouart, and Strasbourg St-Denis. The RER can get scary late at night; try to find alternative transport to and from the airport (such as buses or taxis) late at night or early in the morning.
The most common crime problem in Paris is pickpockets. They prey on tourists around popular attractions such as the Louvre, the Eiffel Tower, Notre-Dame, St-Michel, Centre Pompidou, Versailles, and Sacré-Coeur, in the major department stores, and on the Métro. Take precautions and be vigilant at all times: Don't take more money with you than necessary, keep your passport in a concealed pouch, and ensure that your bag is firmly closed at all times. Also, around the major sites it is quite common to be approached by a young Roma girl or boy and asked if you speak English. It's best to avoid these situations, and, in any incident that might occur, by shaking your head and walking away.
In cafes, bars, and restaurants, it's best not to leave your bag under the table or on the back of your chair. Keep it between your legs or on your lap to avoid it being stolen. Never leave valuables in a car.
In times of heightened security concerns, the government mobilizes police and armed forces, so don't be surprised to see soldiers strolling around transport hubs and carrying automatic weapons. See also "Terrorism," below.
Paris is a cosmopolitan city and most nonwhite travelers won't experience any problems, outside of some unpleasant stares. Although there is a significant level of discrimination against West and North African immigrants, harassment of African-American and Asian tourists is exceedingly rare. S.O.S. Racisme, 51 av. de Flandre, 19th arrond. (www.sos-racisme.org; 01-40-35-36-55), offers legal advice to victims of prejudice and will even intervene to help with the police.
Female travelers should not expect any more hassle than in other major cities and the same precautions apply. French men tend to stare a lot, but it's generally harmless. Avoid walking around the less safe neighborhoods (Barbès Rochechouart, Strasbourg St-Denis, Châtelet-Les-Halles) alone at night and never get into an unmarked taxi. If you are approached in the street or on the Métro, it's best to avoid entering into conversation and walk away.
Miami Currency Exchange:
National Currency & Exchange Rates
France is a member of the European Union and one of 23 countries in the region that uses the euro (abbreviated €) as its national currency. One euro is divided into 100 cents and there are seven notes in circulation, available in denominations of €5, €10, €20, €50, €100, €200 (rare) and €500 (rare).
There are also eight coins in circulation in denominations of €1 and €2, then one, two, five, 10, 20 and 50 cents.
To find the current exchange rate for the euro, visit www.xe.com
Using Credit or Debit Cards in Paris
Visa and Mastercard are widely accepted throughout the city, though some merchants have a minimum purchase amount for credit card payments. American Express cards are accepted to a lesser extent, while Discover cards are usually not accepted. Call your bank ahead of your trip to let them know that you would like to use it abroad and make sure to get a breakdown of the fees they charge.
Using ATMs in Paris
ATMs (distributeur in French) are located all throughout Paris, and enable you to withdraw cash in euros 24 hours a day. They almost all accept Mastercard and Visa cards and give you a choice of instruction in French and English. As a general rule, it is more cost effective to use a debit card as opposed to a credit card in a foreign ATM as fees tend to be lower.
Before you go:
Check with your bank to ensure that your card will work overseas.
Double check that your card will not expire during your trip.
Ask what your 24-hour withdrawal limit is. Depending on your needs, you may need to increase or decrease this limit. Some travelers prefer to have a higher limit to reduce transaction fees, while others prefer a lower limit for security purposes.
Ask your bank what it charges for international transactions.
Bank ATMs in Paris usually do not charge usage fees and are located in popular areas of the city, as well as in and around bank locations. However, independent ATMs (e.g. Euronet) that are not affiliated with a bank will charge additional usage fees and should be avoided.
Exchanging Money at a Bank in Paris
Most French banks will not exchange money to non-account holders. For those that do, they are generally open from 9am to 5pm or 6pm, from Monday to Friday or Tuesday to Sunday. Some branches will close around midday for lunch.
Using Money Exchange Bureaus in Paris
You'll find money exchange bureaus near popular tourist areas around the city, at train stations and airports. Exchange bureaus change their rates daily based on the market, and typically offer a 5% spread between buy and sell rates for any particular currency.
In addition to this spread, most exchange bureaus also charge a commission fee based on the amount you are exchanging as well as your form of payment. Because you will generally be charged a higher commission for exchanging smaller sums, it is a good idea to avoid exchange bureaus unless you are exchanging larger amounts of money. When visiting an exchange bureau, remember to bring a form of ID with you, as this is required to complete the transaction.
To find the current exchange rate for the euro, visit www.xe.com.
Cashing Traveler's Checks in Paris
While it is still possible to purchase traveler's checks, they are no longer a convenient option as fewer and fewer vendors accept them. If you do decide to bring traveler's checks, you will have to cash them at a post office. The Avenue Rapp post office will only cash up to 50€, and the rue Cler post office will cash up to 100€. When cashing traveler's checks, remember that you will need to bring your passport.
Claiming VAT Refunds in Paris
In France, the purchase price for goods includes a Value Added Tax (VAT), which ranges from 12% for everyday items, up to 33% for luxury items. However, if you are a non-EU resident you can receive a VAT refund for qualified purchases.
The first step to claiming a VAT refund in Paris is to shop at a qualifying store. Nearly all department stores in the French capital participate in the VAT refund scheme.  For smaller shops and boutiques, ask the store attendant or look for a Tax-Free sticker on the door.
In order to qualify for a VAT refund, you must spend at least €175 at a qualifying store on the same day. After making your purchase, ask a store attendant for a Retail Export Form (bordereau de détaxe in French) – you will need your passport or a copy of your passport for the attendant to complete the form.
 Clothing:
Bringing along the right wardrobe can go a long way in helping to making your stay in Paris comfortable and enjoyable. The French capital generally enjoys mild temperatures throughout the year, but weather conditions can change rapidly over the course of the day. The key to packing for Paris is to be prepared for anything. Above all else, remember to bring an umbrella. Unexpected showers are a part of Parisian life.
Nudity:  
There are more than 2.6 million people in France who make social nudity a part of their lifestyle. And whilst Paris might be short of the nature most people associate with naturism, it's actually one of the best places to enjoy nudism in Europe. From bowling a strike to swimming, taking yoga or water aerobics, there are many activities on offer.
 Electricity:
The voltage supply level in France is 230v, alternating at 50 cycles per second. However, there are times in rural areas where there are voltage variations. Outlets in France generally accept a 2 prong plug.
A credit meter is usually supplied and regular bills are sent to the customer following meter readings. Meters are read every four to six months. For new customers, the company may ask for some form of security in the form of a cash deposit, a guarantor or a direct debit arrangement. To arrange a reading before you move in, ask for "Relevé Special".
Tipping:
Bills in bars and restaurants must by law include service (despite what entrepreneurial servers may tell you), so tipping isn't required. Waiters are paid well; it is polite, however, to round your bill with small change unless you're dissatisfied. The amount varies—from €0.20 for a beer to €1–€3 after a meal.
With taxi drivers, round up for shorter trips and add up to 5% of the tab for longer ones. Tip hairdressers 10%. In some theaters and hotels cloakroom attendants may expect nothing (watch for signs that say pourboire interdit—tipping forbidden; otherwise, give them €1).
If you stay more than two or three days in a hotel, leave something for the chambermaid—about €1–€2 per day; if the chambermaid also does pressing or laundering for you, give her an extra €1.50–€2 on top of the bill. Expect to pay €2 (€1 in a moderately priced hotel) to the person who carries your bags or hails a taxi for you. In hotels providing room service, give €1–€2 to the waiter (unless breakfast is routinely served in your room). If the concierge has been helpful, leave a tip of €5–€20 depending on the service.
Museum guides should get €1–€1.50 after a tour. For other kinds of tours, tip the guide or leader 10% of the tour cost. It's standard practice to tip long-distance bus drivers about €2 after an excursion, too.
Water
Paris has one of the most quality water networks among the main cities in the world. In brief, if you have doubts about the tap water about your hotel or your rental apartment, you can go for it. That is what the water and local authorities says and what. So, we, the Parisians trust and do with no health risks. So far, so good!
Language & Time
French is the official language and English is not widely spoken. Nonetheless, some people speak some English and a crash course in French or a French phrase book will certainly come in handy. In an effort to preserve the French language, the French government has passed a slew of laws since 1975, banning foreign words from advertising, official documents, radio, television, scientific publications and meetings.
TIME ZONE
Standard time zone: UTC/GMT +1 hour
No daylight saving time at the moment
Time zone abbreviation: CET – Central European Time
Transit system
The Paris public transport system is run by RATP and consists of the Métro (underground), Tram, RER suburban express train (which interconnects with the Métro inside Paris), bus and Noctilien (night bus). Paris and its surburbs divide into 6 zones.
Zones 1 and 2 cover the city center and ALL Métro lines. RATP tickets and passes are valid on the Métro, tram, buses and RER. The Métro alone is very efficient and will take you anywhere you need to go within Paris city limits, and sometines slightly beyond. Buses are less reliable but still offer a good service. Smoking is not allowed.
On the Métro, one ticket is good for any destination, even if the station is beyond Paris city limits. Transfers are permitted (including with connecting RER lines).
On the RER, one ticket is good only within Paris. Transfers are permitted, including with connecting Metro lines. To go beyond Paris city limits, you need to buy a special ticket for your chosen destination.
On the bus, transfers (bus/bus or bus/tram) are also permitted for up to 1 hour 30 minutes (from first to last check-in). Between 1 a.m. and 5.30 a.m., while the Métro is closed, Noctambus lines may be used 7 days a week. A special fare will apply.
Types of passes and tickets
Paris Visite Pass is valid for either 1, 2, 3 or 5 days' unlimited use on all RATP services (métro, suburban trains, trams, buses etc..). Fares vary according to number of days and travel zones selected; children 4 to 11 years old are half-price. You may buy a Pass that covers either Zone 1 to Zone 3 or Zone 1 to Zone 6. The latter will allow you to go all the way to places like Disneyland Resort, Château de Versailles and both Charles de Gaulle and Orly airports. Fares for ParisVisite Pass.
Information and prices of the pass Paris Visite
Single tickets (known as ticket t+) may be purchased at the counters each time, but the better value is a booklet ("carnet") of 10 single tickets, which will save you queuing each time. Both single tickets and "carnets" may also be purchased from tobacconists.
Parisians mostly buy yearly passes ("Navigo"), or monthly/weekly passes ("Carte Navigo") which are most economical if you plan to be there long enough. The yearly Carte Navigo begins on January 1st. The monthly Carte Navigo begins on the first day of the month. The weekly Carte Navigo goes from Monday to Sunday. All passes offer unlimited travel on all RATP services (métro, buses etc..) within the Zone(s) you have chosen. You first need to buy a "Navigo découverte" card (for €5) at any RATP counter inside a metro station and then you can choose the Carte Navigo you want (monthly or weekly).
For travelers aged under 26 (not included) coming to Paris for the week-end or during a French public holiday, the youngster ticket ("Ticket Jeune Week End" ) is pretty economical. It allows unlimited travel for one day on all RATP services. You may buy Ticket Jeune for Zone 1-3 or Zone 1-5 or Zone 1-6 or Zone 3-6. Ticket Jeune does NOT allow you to connect to airports with the RER suburban train. Rather, you are allowed to use bus lines 183 or 285 to connect to Orly airport (Zone 4), or lines 350 or 351 for Roissy Charles de Gaulle airport (Zone 5).
Disabled travelers: RATP has greatly improved the service available to disabled travelers and other persons with special needs. Please click here for more information.
What to Pack for Summer to Paris
Packing for summer is a more straightforward affair. Sunglasses, shorts or breathable pants and a mix of shorts and tops should cover most of your needs. A light jacket is recommended for exploring the city after the sun goes down. On sunny days, remember to stay hydrated and wear proper sun protection.
Toiletries
Sun protection
Some medicines are delivered only with a medical prescription. Bring your own medicine.
Bring electrical outlet adapter and Voltage Converters
 Things to carry on with you:
A copy of your passport and driver's license.
Money If you are going to make a purchase or go out to dinner, take more and take a credit card as well.  Use the card only if you don't have enough cash.
Your emergency telephone list of phone numbers from back home.
A business card showing the phone and address of your hotel.
Credit cards only if you plan to go to the bank.