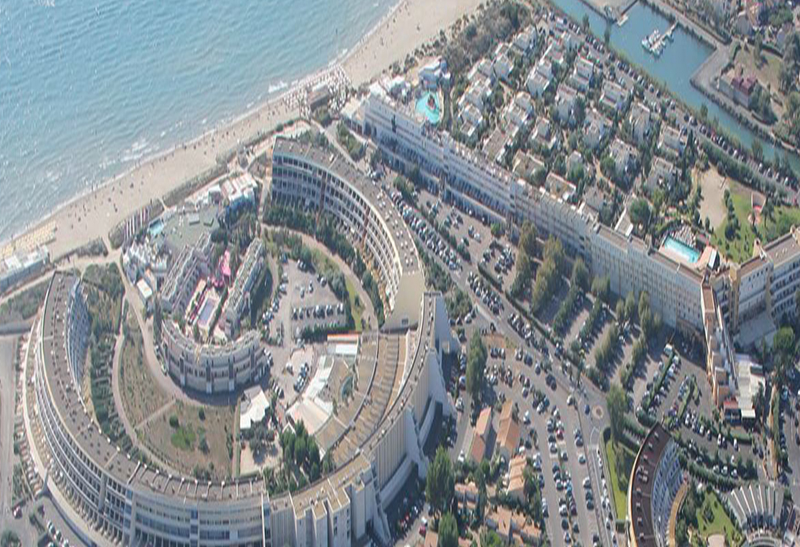 Cap d'Agde is located on the Southern Western tip of France, close to Montpellier and also within a 4-hour drive of Barcelona, Spain.
With its ports and beaches, Cap d'Agde is a holiday capital designed for tourism and an authentic southern town on the edge of the Mediterranean Sea.
Cap d'Agde in the Languedoc in the south of France enjoys 300 days of sunshine a year and everyone agrees that it is a great holiday destination. Made up of 4 distinct and complementary sites, the area includes Cap d' Agde's seaside resorts, the historic Cité d'Agde and the fishing villages of Grau d'Agde and La Tamarissière. Located on a volcanic site between the Canal du Midi, the river and sea, Cap d'Agde boasts 3 ports, 14 km of partly wild and partly developed fine sandy beaches, a natural environment made up of parks, pine forests, closely protected marine areas, historical monuments, astonishing heritage, top quality sporting facilities and is a permanent whirl of activity.
Where do I fly into?
Barcelona International Airport
08820 El Prat de Llobregat
Phone: +34 902 404 704
Cap D`agde Weather
The climate is typically Mediterranean, which means that the summers are hot and humid and the winters are mild. Most of the precipitations come during the spring and the autumn. Average annual temperature is 15.6º C. See chart below:
| | | |
| --- | --- | --- |
| MONTH | Average  maximum temperature (°C) | Average  minimum temperature (°C) |
| January | 11 | 3 |
| February | 12 | 4 |
| March | 14 | 5 |
| April | 19 | 8 |
| May | 22 | 11 |
| June | 26 | 15 |
| July | 28 | 17 |
| August | 28 | 17 |
| September | 24 | 14 |
| October | 20 | 11 |
| November | 15 | 6 |
| December | 11 | 3 |
Passport and Visa Information
With a valid U.S. passport, you can stay up to 90 days for tourism or business during any 180-day period.  Do not overstay!  You must wait an additional 90 days before applying to re-enter the Schengen area.
To stay longer than 90 days, you must have a visa.
Traveling in Europe
If you are planning to visit or travel through European countries, you should be familiar with the requirements of the Schengen Agreement.  The Schengen Agreement is a treaty creating Europe's Schengen Area, which encompasses 27 European countries, where internal border checks have largely been abolished for short-term tourism, business trips, or transit to non-Schengen destinations.  Because many Schengen countries assume that all entering travelers will stay for the full three months allowed for visa-free visitors, we recommend the following:
Passports:
Passport signed and valid 3 months after the last day of stay.
If traveling from one border-free Schengen country to another, however, EU nationals are not required to show a passport or national ID card. It is still recommended that you travel with your passport or ID card to prove your identity if necessary though. Note that Bulgaria, Croatia, Cyprus, Ireland, Romania, and the UK are not part of the Schengen area, so a passport or ID card is required if traveling to/from these countries.
Types:
There are various types of visa available: tourist, business and transit visas. To check if you need these visas, contact your nearest France Embassy.
Health and Safety
Barcelona is considered a safe city but you have to watch out for pickpockets. They operate everywhere in the city but especially nearby metro stations and the main tourist attractions.
As a visitor to France, it is important to determine whether you need travel insurance, and which plan is best, before you leave home
France Currency Exchange
The Official currency in France is the Euro (EUR; symbol €) = 100 cents. Notes are in denominations of €500, 200, 100, 50, 20, 10 and 5. Coins are in denominations of €2 and 1, and 50, 20, 10, 5, 2 and 1 cents.
Euro to US dollar rate is $1 = 1.36 Euros. Multiply the price in Euros by 1.36 to get the price in US dollars. If your exchange rate is, instead, expressed in US dollars to Euros, and the exchange rate is $0.73 to 1 Euro, you should divide the price in Euros by 0.73 to get the price in US dollars
Banks
Generally Mon-Fri 0830-1400.
Exchanging currency is not free. You will be charged a fee, or group of fees, each time you change money. If you get foreign currency from an ATM, you will be charged a currency conversion fee by your bank. You may also be charged a transaction fee, as you would at home, and perhaps a non-customer / non-network fee as well. Similar fees apply if you use your credit card in an ATM to obtain a cash advance
For ATM get your PIN of more than four digits or it might not work at French machines. Also, be sure you have the PIN memorized as a number even if you usually remember it as a word. Most of the ATM machines in France do NOT have letters corresponding to the numbers on the keypad.
Clothing
Although most people shred their clothes on a large scale in the daytime, the evenings are a time when people wear their fun gear including leather, straps, lycra and PVC clothing. Some people dress in less interesting clothing and simply wear shorts, T-shirts or a dress. You can pretty much dress in anything you want or do not want to.
The Dress code and sense in terms of clothing seem overall to be to wear something, even if it is very little but you will always see a few people determined to get the full naturist experience and to stay undressed 24/7.
What to wear in the Evenings at Cap d'Agde:
People do not usually go clothes free in the evenings because it is cooler at night and also because dressing in whatever you choose to, gives everyone a further chance to express themselves to the crowd.
Many people enjoy sitting in one of the in& outdoor bars in the evenings and people watching as many people walk around showing off their sometimes unique and revealing clothing. This tends to, in many ways, be a part of the entertainment at Cap d'Agde.
For the lady: sexy, but no trousers, leggings or similar.
For the man: elegant. Interpret that as closed-toe shoes, shirt, and slacks. No jeans.
NOTE: In high season, the door staff (nightclubs) can be quite fussy
Electricity
Electricity supply is 220 volts throughout Europe with 2 pin wall sockets. For any European countries that utilize 240 volts e.g., UK and Ireland most electrical equipment will function adequately.
If you intend to use the UK electrical plugs then you will need an electrical plug adapter that will convert the standard 3 pin socket into a two pin socket. In the US where the electricity supply is 110 volts, a transformer would be required to step down the voltage to 110 volts. Damage to the electrical appliance can occur if you attempt to use a 110 volt rated electrical appliance with a 220 volt supply.
Remember: an adapter plug doesn't convert the voltage, it just converts the hardware plug (see the definitions below).
Definitions For Electrical Conversion Devices
Plug Adapter – an interface that attaches between the American two-pronged plug and a specific European socket. The result is that the American appliance will be connected to European 220v 50 cycle electrical power.
Power Converter (or transformer)– converts the European 220v to 110 volts so that American appliances will operate on European Current. Watch that the power rating (in watts) exceeds the rating of all appliances you expect to plug in at one time.
It's recommended that you purchase your electrical plug adapter or converter at many travel-oriented stores in your country, as well as electrical and hardware stores in Europe. Or buy them at the airport that even if it costs a few Pounds/Euros/Dollars more.
Tipping
In cafes and restaurants in Paris and the rest of France directly include a 15 percent service charge in your check. This is required by French law as tips are assessed for taxation purposes.
The 15 percent service charge is clearly itemized on your check, on top of the VAT tax (a French version of the sales tax). The words service comprise (tip included) indicate that the tip has already been included in the total to be paid.
The good news is that prices rated on the menus are all-inclusive: they include both the 15 percent tip and the sales tax. There is no last-minute unholy surprise when you are given your check. What you saw on the menu is what you get charged for, no hidden extras.
So no extra tips then?
Well, a small extra-tip is always appreciated, of course. It's the mark you were satisfied with the way you were served by your waiter (Garcon in French, pronounced 'Gar-son' with the 'on' sounded like in 'honking' not like in 'son'). It's a sort of a 'Thank You' note. But you are under no obligation here.
Small extra-tips are also appreciated because they directly line your waiter's pockets, unlike the 15 percent tip charge which is usually tallied up at the end of the day and divided amongst all waiters. In some bars, the owner may even keep the totality or part of the tip charge.
French law does not require indeed that service charges be distributed to waiters. So your waiter might not even see a dime of it. But once again, you paid your dues when paying your check, and you are under no obligation to extra tip.
How much should the extra tip be?
Extra tips may range from just a couple of Euro dimes for a coffee or a soft drink, to 1-5 euros for a lunch or dinner. A nice "Thank You" is 5 to 10 percent of the total check. But once again, there is no obligation, and no steadfast rule as far as the percentage goes.
What about tipping in other situations?
Case in point: taxi drivers. The average driver employed by a cab company earns about €1,400 a month – which is roughly equivalent to $2,500 in New York City. This is for 10 hours of hard work per day. A few years ago, cab drivers used to work 14-15 hours a day, 6 days a week to pad up their wages. French law now forbids it. So tipping them 5-10 percent of your fare is generous.
One euro per bag to your hotel porter should make him smile.
This is what tipping really is: a demonstration of generosity and a way to express satisfaction for the service you were just provided.
Water
You can drink the tap water everywhere in France. You can carry a water bottle and refill at water taps. You will not have problems at all. The waters all tasted fine.
Also, you can buy a bottle of water if you do not fill safe with tap water
Language
The official language is French.
In the tourist areas, you will have people who speak English, however, more off the beaten track most people will only speak French.
Don't be shy about using your school French, however basic or rusty it might be. We all know that the French are very proud of their language; so it follows that the French will be delighted when you attempt to speak to them in their language. Of course, you may not get far, but it's the best way to make a French person speak to you in English when they realize that the next few minutes will be extremely painful to them as you murder their exquisite language.
What to pack for a trip to CapD`agde
You might want to include these items of clothing and things to wear when packing for Cap d'Agde:
Sandals (as the sand can get too hot to walk on)
Baseball cap
Sunglasses
Towel (for lying on and for sitting on if going to one of the bars on site).
Bring a nice outfit or two if you are planning an evening out at an elegant restaurant or Nightclub
A light jacket for cooler evenings
Sun Protection
Toiletries
Bring a European electrical outlet adapter if you are bringing any small electrical appliances because the standard 220-volt American plugs do not work in Cap D`agde.
Things to carry on with you
A copy of your passport and driver's license.
Money If you are going to make a purchase or go out to dinner, take more and take a credit card as well.  Use the card only if you don't have enough cash.
Your emergency telephone list of phone numbers from back home.
A business card showing the phone and address of your hotel.
Sunscreen if you plan to be out in the sun a lot.
Cash cards only if you plan to go to the bank.
Credit cards only if you plan to go to the bank, major shopping, or to a nice restaurant