Destinations Greece Destinations Santorini
Greece, Santorini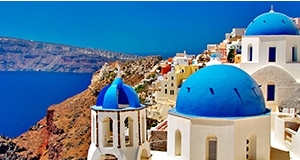 It's been said the sunset from Oia on the island of Santorini is the most beautiful in the world. But you don't have to wait until dusk to see your share of postcard-worthy views. Santorini is stunning any time of day.The capital, Fira, clings to the rim of the caldera 900 feet above the sea. Take the cable car—or if you're looking for a more authentic experience, giddy up on a donkey to climb the 588 zigzagging steps to the top. The white cobblestone streets bustle with shops, tavernas, and cafés perfect for sampling the tomatoes and white eggplant for which Santorini is renowned.If you're feeling ambitious, hike to nearby Oia, a quintessential Greek village. Plan your day accordingly to "schedule" yourself on a patio enjoying a glass of Vinsanto (a sweet, strong dessert wine) as the sun sinks into the sea, and then make up your own mind about the village's famed sunset.Drive by black, white, and red volcanic beaches and head south to the 3,500-year-old Minoan town Akrotiri. Often called Greece's answer to Pompeii, the well-preserved ruins provide a glimpse into Santorini's storied (and explosive) past.
No Destinations Found.
Choose destinations from back-end to show in this section.
You could spend a lifetime in Europe's oldest city and still not see everything it has to offer. Settled over 3,500 years ago, Athens is like a mythological crossroads of the past and present, where modern buildings share the skyline with spectacular ruins like the Parthenon.
To see a veritable "greatest hits" line-up, make your way to Vasilissis Amalias Street for the archaeological walk. Winding through the heart of the ancient city, the route leads to landmarks like the Temple of Olympian Zeus, Ancient Agora, Arch of Hadrian, and of course, the Acropolis.
After all that archaeological digging, metaphorically speaking, you're probably going to work up quite an appetite. So, head to the Central Market for fresh fruit and veggies, nuts, olives, and Grecian cheese like feta, graviera, and aged kefalotyri. (Snacking is not a bad idea since Athenians usually don't head out for dinner until at least 9:00 PM.)
And if you need a little extra pick-me-up to make it that late, have a frappe—a Greek creation of strong iced coffee with milk and sugar. Neighborhoods like Pangrati, Exarhia, and Petralona feature fantastic tavernas where you can rub elbows with the locals while dining on the sidewalk well into the wee hours of the night. Opa!
TOUR PACKAGES
OUR IN-HOUSE SERVICE
Write a Review about Greece, Santorini
Our Recommendations