Description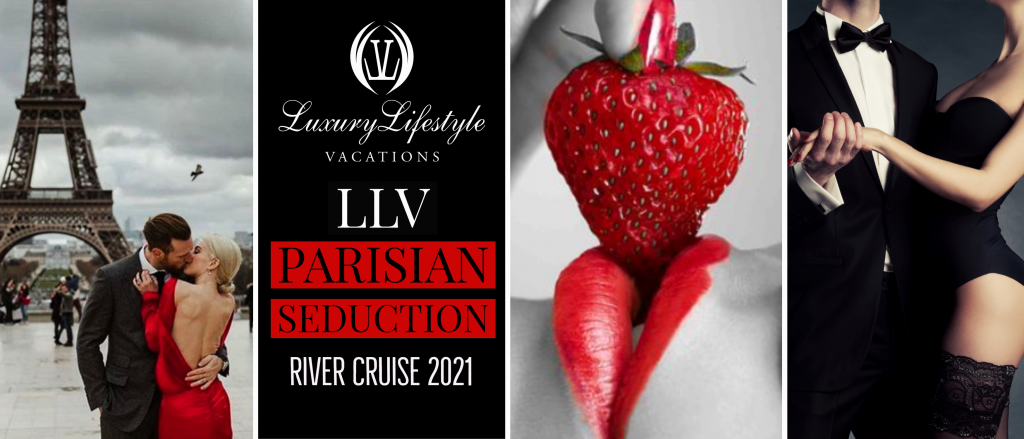 World class luxury, sensuality and erotic pleasure brought together in the city of lights, Paris!
Fulfill your fantasies lose yourself in seduction in Paris in the world's most romantic destination immerse in rich culture architectural splendor surrounded by like-minded sexy couples!
Recommended couples age between 40-65
*Erotic entertainment
*International DJ's
*Sensual Playroom
*Sexy Theme Nights
With just 64 elegantly appointed cabins, including beautiful Open-Air Balcony Panoramic Suites, unmatched excursions, culinary and wine pairings from the region and all-inclusive, this is the intimate cruise you've been waiting for.
What's Included:  Truly all inclusive, cabin, all meals & snacks, dedicated butler service, WiFi, unlimited beverages alcoholic and non-alcoholic.
Itinerary:  Paris, France to Normandy and back.  4 fabulous stops in between.
Highlights:  Cruising along the Seine with stops to see historic Normandy, Monet's Giverney Gardens, Joan d'Arc's hometown, Napoleon & Josephine's Chateau and, of course, all the unbelievable treasures of Paris.
Day 1
Paris (Embarkation): onboard welcome reception
Day 2
Vernon–Les Andelys: choice of excursions to Giverny or Bizy Castle; choice of guided walk, or guided hike in Les Andelys
Day 3
Caudebec: choice of excursion along the "Normandy Abbeys Route", or hike in nature
Day 4
Caudebec: choice of full-day excursions to Normandy landing beaches, or "A Taste of Normandy" excursion
Day 5
Rouen: guided sightseeing, see the Astronomical Clock and visit the cathedral
Day 6
Conflans: choice of excursions to Auvers-sur-Oise, or Napoleon and Josephine's Château de Malmaison
Day 7
Paris: choice of guided sightseeing or "Heart of Paris" walking tour to see Paris' historic sights
Day 8
Paris (Disembarkation): your vacation ends this morning


Meals
• FlexDining for more venue and seating options, including flexible seating times in the Panorama Dining Room
• Avalon Fresh healthy cuisine options at every meal
• Complimentary sparkling wine with breakfast; wine, beer, or soft drinks with every lunch and dinner
• Early and Late Riser breakfast options
• Daily full buffet breakfast with made-to-order egg station, hot and cold menu items
• Daily lunch buffet with pasta or carving stations
• Alternative light lunch at Sky Grill on the Sky Deck (weather permitting)
• Daily Afternoon Tea featuring tea, coffee, sweet treats & sandwiches
• Daily four-course a la carte dinner in the Panorama Dining Room with choice of appetizers, soups, salads, entrees, and desserts. Includes selections of regional recipes, Western dishes, and vegetarian options.
• Enjoy a tasting menu with a view in the Panorama Bistro – a less formal "sit-down" atmosphere while lingering over several satisfying selections
• Captain's welcome & farewell receptions and dinners with sparkling wine and canapés
• Panorama Lounge featuring premium spirits and Avalon specialty cocktails, along with local entertainment special guests
• Cocktails available on the Sky Deck
• Fresh fruit available throughout the day


Avalon FreshSM healthy cuisine options at every meal
Self-serve beverage station with complimentary tea, hot chocolate & premium coffees, including decaf options
Welcome & farewell cocktails with sparkling wine & canapés
Spacious, open-seating Panorama Dining Room
Daily early-riser breakfast
Daily late-riser breakfast
Full buffet breakfast with sparkling wine and made-to-order egg station
Lunch buffet with carving and pasta stations
Al fresco lunch in the Sky Grill
Cocktails with a view on the Sky Deck
Healthy Corner options including low calorie, low fat, high fiber, low cholesterol, and high energy choices
Vegetarian options at every meal, as well as vegan and allergy-free selections
Afternoon Tea featuring tea, coffee, and sweet treats
Happy Hour every evening including featured drink specials
Seasonal cuisine featuring the freshest local ingredients
Chef-prepared onboard meals with regional cuisine and familiar favorites
Four-course dinners with choice of appetizers, soups, salads, entrées and desserts or cheese
Complimentary wine, beer, or soft drinks with lunch and dinner
Complimentary room service for Continental breakfast
Panorama Lounge & Bar with premium spirits, cozy seating, panoramic windows & dance floor
Healthy meal options
Linger over several selections from the Panorama Bistro's tasting menu for a less formal "sit-down" atmosphere
Tastings – sample the destination's famous delicacies
Casual dinner in the Panorama Bistro
Coffee or tea after dinner
Light lunch in the Panorama Lounge
FlexDining flexible dining times with menu & venue options


The Avalon Tapestry II is a true haven on the river – two full decks of Panorama Suites with Wall-to-Wall Panoramic Windows that transform the living space into a unique Open-Air Balcony.
With 200 square feet, Panorama Suites are more than 30% larger than the industry standard, giving you the rare opportunity to wake each morning to enchanting scenery and fresh breezes.
Onboard amenities and services include complimentary computer use in public areas and free Wi-Fi access, a Fitness Center with state-of-the-art equipment, an elevator, and a spacious Sky Deck with shade system, whirlpool, deck games, and the delightful Sky Bistro for al-fresco lunches of light grill fare.
Built: 2015
Length: 361
Crew Members: 37
Staterooms: 12
Suites: 52
Fitness Center
Complimentary WiFi Access
Hair Salon
Sky Deck with shade System + Premium lounge chairs
Laundry & Ironing service
Whirlpool
Headsets for all guided shore Excursions
Elevator
Onboard entertainment and games

DAY 1
DAY 1
(D)
PARIS, FRANCE (EMBARKATION)
Welcome to France. Your Suite Ship is Ready for Boarding.
Flights into Paris must arrive by 2:30 pm.
Guests must be on board the ship by 5 pm.
Your day is free to explore the world's most romantic city before starting your cruise on the Seine. Get acquainted with the City of Lights today with some shopping, strolling, or with a croissant and café au lait to watch the world go by amid the Parisian cityscape.
EVENING/OVERNIGHT CRUISE TO VERNON
DAY 2
DAY 2
(B, L, D)
VERNON
Monet's Muses, Castle Courtyards, and Crêpes du Jour
Start the day with a Morning Stretch with your Avalon Adventure Host.
CLASSIC
Take a Guided Tour of Giverny, home, and inspiration of the master impressionist painter Claude Monet. Walk the grounds and see Monet's charming residence, and the flower and water gardens captured in his masterpieces, OR:
CLASSIC
Join a Guided Visit to Bizy Castle—called "Normandy's Versailles" for its magnificent courtyard, water garden, and stables.
DISCOVERY
While sailing, enjoy a traditional French luncheon of authentic French crêpes, followed by a Pastry Demonstration.
This afternoon, enjoy a beautiful cruise to the picturesque town of Les Andelys.
LES ANDELYS
Serenity on the Seine's Most Beautiful Riverbend's
CLASSIC
Take a Guided Walking Tour of Les Andelys—one of France's most picturesque spots on the Seine, OR:
ACTIVE
Join a Guided Hike up to the castle ruins of Château Gaillard—the historic home of King Richard the Lionheart.
EVENING/OVERNIGHT CRUISE TO CAUDEBEC
DAY 3
DAY 3
(B, L, D)
CAUDEBEC
Churches, Cherry Orchards, and White Cliffs of Normandy
ACTIVE
Join your Avalon Adventure Host for a Morning Jog in Normandy's town of Caudebec.
CLASSIC
Take a Guided Trip along the Normandy Abbeys Route—where more than 100 medieval Benedictine and Augustine abbeys and churches were built along the Seine, OR:
ACTIVE
Explore Boucles de la Seine Normande with a Guided Hike of Normandy's vast regional nature park in a region rich in apple, plum, pear, and cherry orchards.
This afternoon, you may choose a Guided Optional Excursion to the old seaside town of Honfleur.
Later enjoy live entertainment onboard.
OVERNIGHT DOCKING IN CAUDEBEC
[vc_toggle title="DAY 4″ open="true" css=".vc_custom_1613415132466{border-top-width: 1px !important;border-right-width: 1px !important;border-bottom-width: 1px !important;border-left-width: 1px !important;padding-top: 5px !important;padding-right: 5px !important;padding-bottom: